Etna pear extra jam is a pear variety cultivated in the Etna area, a place with special climatic and geological conditions that give the apples an intense flavour and juicy flesh. Our jam is the result of a meticulous search for high-quality raw materials and artisanal preparation, which guarantee an authentic product with an intense flavour.
A quality product
Our passion for quality research and experience in the preparation of jams and marmalades allow us to offer a high quality product. The jam is prepared with care and attention to taste, using only the best hand-picked Etna pears. Our philosophy is to use simple and natural ingredients, without adding preservatives or colouring agents, to offer a genuine and authentic product.
The authentic taste of Sicily
The Pera Coscia dell'Etna is a typical Sicilian product, characterised by an unmistakable and unique flavour. Our extra jam enhances this flavour, thanks to artisanal preparation that preserves the organoleptic properties of the fruit. The sweetness of the jam blends perfectly with the intense flavour of the pear, offering a unique and unforgettable taste experience for the palate.
The versatility of Etna Pear Coscia extra jam
Extra Pear Coscia jam is a versatile product that can be used on many occasions. It goes perfectly with cheese, such as pecorino or gorgonzola, but can also be used to fill tarts or to enrich the taste of cakes and desserts. In addition, Etna Pear Coscia extra jam is an excellent choice for breakfast, to be enjoyed with toasted bread or biscuits.
Buy Etna Pear Coscia Extra Jam
If you want to discover the authentic taste of Sicily, don't miss the chance to buy the jam of pears grown at the foot of Mount Etna. A high quality, authentic and genuine product, prepared with care and passion to offer you a unique and unforgettable taste experience.
Formats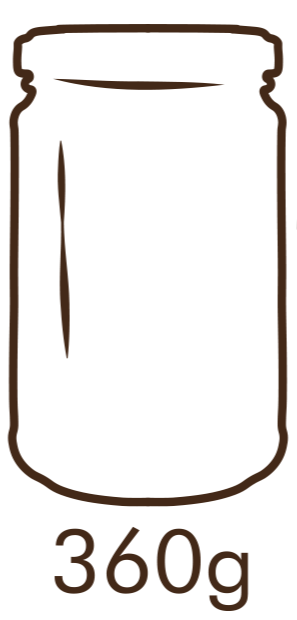 PRODUCT SPECIFICATIONS
| | |
| --- | --- |
| Ingredients | Thigh pear, sugar, gelling agent: fruit pectin, acidifier: citric acid. |
| Fruit used | 80g per 100g. |
| Storage | It is recommended to store the pear jam at room temperature. After opening, keep the product at a temperature within 4 degrees and consume within 14 days. |
| Taste | Sweet and slightly 'rough', like the typical ripe pear. |
| Usage | The product proves particularly suitable for the preparation of desserts with a delicate flavour, especially tarts. It also goes well with cheese. |
Nutritional Values per 100g
| | |
| --- | --- |
| Energy | 919 kJ/217 Kcal |
| Fats | 0 |
| of which saturated | 0 |
| Carbohydrates | 53 |
| of which sugars | 53 |
| Protein | 0 |