Sicilian Blackberry Extra Jam: the authentic taste of Sicilian agricultural tradition
If you are looking for a high quality artisanal product, Sicilian Blackberry Extra Jam is the right choice for you. Made with care in the choice of raw materials, this jam will give you the authentic taste of blackberries grown by our Sicilian farmers.
Carefully selected raw materials
To make our Sicilian blackberry jam, we select only the best blackberries grown in Sicily by our farmers. We use 90 per cent fruit, without adding preservatives or artificial flavourings, to ensure a genuine and natural product.
Handcrafted and quality products
Our jam is produced following traditional Sicilian artisan methods, with special attention paid to the care and quality of the raw material. Every stage of the production process is carefully followed, from the harvesting of the blackberries to their peeling by hand, from slow cooking in a pot to the preparation and packaging of the finished product.
The authentic taste of Sicily
Sicilian blackberry jam is a product that will allow you to savour the authentic taste of traditional Sicilian agriculture. Its intense and genuine flavour will take you straight to the blackberry fields of our beautiful island.
Choose Sicilian Blackberry Extra Jam to enrich your breakfasts and snacks with a quality, artisanal and genuine product.
Formats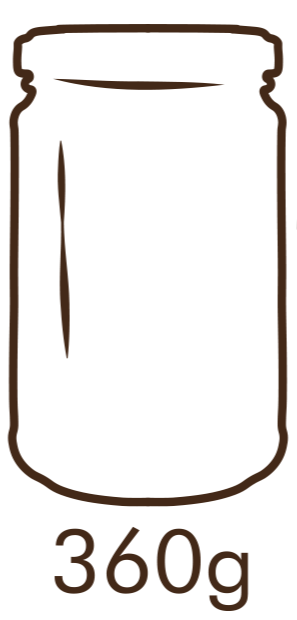 PRODUCT SPECIFICATIONS
| | |
| --- | --- |
| Ingredients | Blackberries, sugar, gelling agent: fruit pectin, acidifier: citric acid |
| Fruit used | 90g for 100g. |
| Storage | Keep the product at room temperature to preserve its qualities and taste. After opening, it is recommended to store the jam at temperatures within 4 degrees and to consume it within 14 days. |
| Taste | |
| Usage | Blackberry jam can be spread on bread or toast for a nutritious breakfast/meal in seconds. It is particularly well suited to the preparation of desserts, but can also be combined with fresh cheeses as an alternative. |
Nutritional Values per 100g
| | |
| --- | --- |
| Energy | 925 kJ/218 Kcal |
| Fats | 0 |
| of which saturated | 0 |
| Carbohydrates | 52 |
| of which sugars | 51 |
| Protein | 0,9 |