Agrisicilia's Extra Pear Jam
The search for the best raw materials
Agrisicilia produces artisanal jams using only selected, high quality fruit, sourced directly from their own fields in Sicily. Extra Pear Jam is no exception: the pears are cultivated with care and passion, following careful care of the soil and careful selection of the varieties to be grown.
Handicraft workmanship
The production of Agrisicilia jams involves totally artisanal processing, without the use of additives or preservatives. Once harvested, the pears are carefully selected and washed, then cut into small pieces and cooked over a low heat, together with brown sugar and lemon juice. The result is an extra jam with an intense and genuine flavour, perfect to enrich your breakfasts and sweet breaks.
The beneficial properties of pears
Pears are a source of energy and essential nutrients for our body, such as potassium, vitamin C and fibre. Thanks to their antioxidant content, pears are also able to fight free radicals and the signs of ageing. In addition, pears are very digestible and can promote intestinal regularity.
Uses in the kitchen
Agrisicilia's Extra Pear Jam lends itself to many uses in the kitchen: it is excellent spread on toasted bread, as an ingredient for cakes and tarts, or as an accompaniment to mature cheeses and cured meats. Its soft and creamy consistency also makes it perfect for filling cakes and crepes.
Choose Agrisicilia's Extra Pear Jam and bring to the table the goodness of Sicilian fruit, processed with care and passion for an artisanal and genuine product.
Formats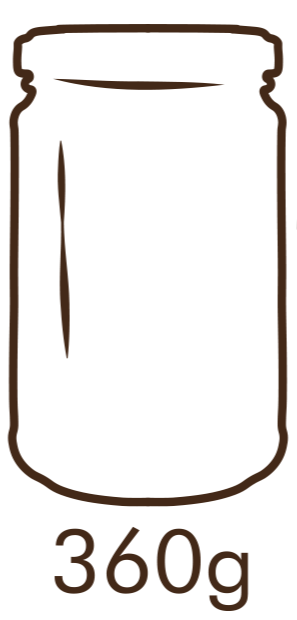 PRODUCT SPECIFICATIONS
| | |
| --- | --- |
| Ingredients | Pears, sugar, gelling agent: fruit pectin, acidifier: citric acid. |
| Fruit used | 70g per 100g. |
| Storage | Keep the product at room temperature. After opening, store at temperatures within 4 degrees and consume within 14 days. |
| Taste | |
| Usage | This extra jam is suitable for breakfast and for making cakes and tarts. In addition, it is excellent with hard and soft cheeses. Also good spread on bread or rusk for a quick and nutritious snack. |
Nutritional Values per 100g
| | |
| --- | --- |
| Energy | 1055 kJ/ 249 Kcal |
| Fats | 0,1 |
| of which saturated | 0 |
| Carbohydrates | 60 |
| of which sugars | 55 |
| Protein | 0,3 |