Discover the Extra Sicilian Sbergie Jam
If you are looking for an original fruit jam, Sicilian Sbergie Extra Jam is for you. This artisanal product is made with care and passion by Sicilian farmers who select only the best sbergias to guarantee an intense and genuine flavour.
The choice of raw material
Sicilian sbergues, also known as blackberries, are a variety of berry with health-promoting properties due to their high concentration of antioxidants. Confettura Extra di Sbergie Siciliane is made using only fresh, ripe sbergie, selected and peeled by hand to guarantee a high quality product.
The taste of Sicilian tradition
Sicilian Sbergie Extra Jam is an artisanal product that represents the authentic taste of traditional Sicilian agriculture. Thanks to the care taken in selecting the raw materials and the artisanal preparation, this jam stands out for its intense and aromatic flavour, which will make you feel the unique taste of Sicily in every spoonful.
90% fruit
Confettura Extra di Sbergie di Sicilia is a product that respects nature and the health of the consumer. In fact, it contains 90% fruit, with no added preservatives or artificial flavourings. In this way, you can enjoy a genuine and healthy jam, perfect to accompany your toast or to prepare cakes and desserts.
Handmade product
Extra Sicilian sbergie jam is an artisanal product made with passion and dedication by Sicilian farmers. It is prepared according to ancient traditional Sicilian recipes and using only the most natural and traditional techniques and tools. In this way, each jar of jam represents a unique piece of Sicilian culture, ready to delight your palate and let you discover the flavours of this wonderful land.
Conclusion
In summary, if you are looking for an original, high quality fruit jam, Sicilian Sbergie Extra Jam is the perfect product for you. With its selection of fresh sbergias, artisanal preparation and intense, aromatic flavour, this jam will let you discover the authentic taste of Sicilian agricultural tradition.
Formats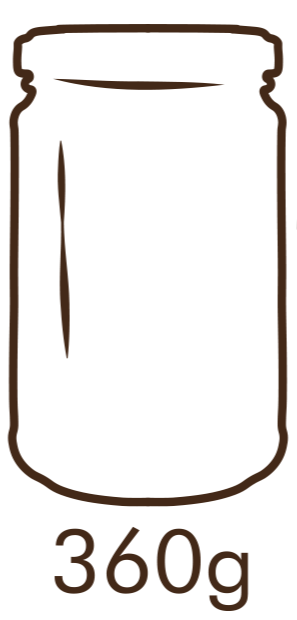 PRODUCT SPECIFICATIONS
| | |
| --- | --- |
| Ingredients | Sbergie, sugar, gelling agent: fruit pectin, acidifier: citric acid. |
| Fruit used | 90g for 100g. |
| Storage | We recommend storing the product at room temperature to preserve all the qualities and taste of the jam. After opening, keep at temperatures within 4 degrees and consume within 14 days. |
| Taste | |
| Usage | This product is particularly suitable for filling desserts. It can also be enjoyed with a good slice of bread or rusk. |
Nutritional Values per 100g
| | |
| --- | --- |
| Energy | 959 KJ/226 Kcal |
| Fats | 0 |
| of which saturated | 0 |
| Carbohydrates | 54 |
| of which sugars | 54 |
| Protein | 1 |