Agrisicilia's artisanal extra white fig jam
If you are looking for a high-quality white fig jam, Agrisicilia's Artisanal Extra White Fig Jam is the one for you. Agrisicilia, a Sicilian farm, produces artisanal jams using only fresh, quality fruit. White fig jam is one of their flagship products, characterized by a unique and intense flavor that reflects the authenticity and tradition of Sicilian cuisine.
The quality of the fruit
Agrisicilia's extra white fig jam is composed of 90 percent fresh fruit, which means each spoonful contains all the flavor and nutrients of the fruit itself. The white figs used to make the jam are grown in Sicily, where the warm, sunny climate, along with the fertile volcanic soil, create ideal conditions for growing quality fruit. The fruit is hand-picked and processed immediately afterwards to best preserve its properties.
The unique flavor of Sicilian white figs
Agrisicilia's white fig jam has an intense and unique flavor derived from the characteristics of Sicilian white figs. These figs, which differ from others in the light color of their flesh, are sweet and juicy and have a flavor reminiscent of honey. Agrisicilia's white fig jam captures this flavor perfectly and makes it available year-round.
The craftsmanship of production
Agrisicilia's white fig jam is handcrafted, following the tradition and authenticity of Sicilian cuisine. The production process begins with hand-picking the fruit, which is then processed immediately afterward to keep all the flavor and freshness intact. The jam is prepared in small quantities to ensure the utmost care and attention is paid to each individual production.
Formats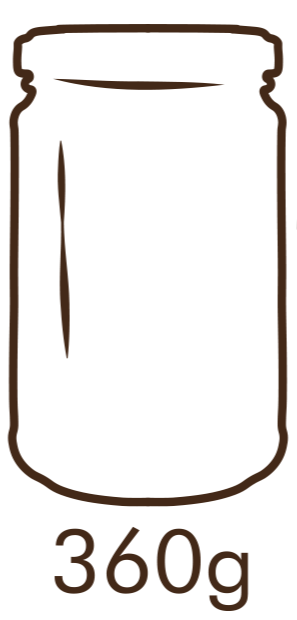 PRODUCT SPECIFICATIONS
| | |
| --- | --- |
| Ingredients | Figs, sugar, gelling agent: fruit pectin, acidifier: citric acid. |
| Fruit used | 90g for 100g. |
| Storage | It is recommended to store the product at room temperature. After opening, it is recommended that the product be kept at temperatures within 4 degrees and consumed within 14 days. |
| Taste | Sweet and delicate, typical of white figs. |
| Usage | Because of its sweet flavor, this jam is an ideal accompaniment to sweet dessert and fortified wines. Also ideal for filling desserts and accompanying some types of cheeses. |
Nutritional Values per 100g
| | |
| --- | --- |
| Energy | 110 kJ / 262 kcal |
| Fats | 0,4 g |
| of which saturated | 0 g |
| Carbohydrates | 60 g |
| of which sugars | 59 g |
| Protein | 0,6 g |