Preparing Strawberries with Protein: A Choice for Healthy Eating
Strawberries: Origin and quality
Strawberries are a popular summer fruit for their sweet and juicy flavour, but also for their health benefits. Strawberries are rich in vitamins and antioxidants, and are a valuable source of nutrients for the body.
Collagen Protein: A Novelty in Jam Preparation
Agrisicilia, a consortium that promotes typical Sicilian products, has recently developed a new jam preparation, enriched with collagen proteins. This is the world's first strawberry-based protein jam, combining the taste of fruit with the benefits of protein.
Healthy Nutrition and Lifestyle
The introduction of collagen proteins in the preparation of jam is a step forward for healthy nutrition and a healthy lifestyle. Collagen proteins are in fact useful for the well-being of bones, muscles and skin, and help maintain the right balance between muscle mass and body fat.
More Protein, Less Sugar: A Health Option
Strawberry jam with collagen protein is an ideal choice for those looking for a healthy and nutritious breakfast or snack option. Collagen proteins are also free of carbohydrates, sugars and fats, so the addition of protein does not affect the amount of sugar in the jam.
Agrisicilia: High-quality typical Sicilian products
Agrisicilia is the consortium that promotes typical Sicilian products, including strawberries, and guarantees product quality. Agrisicilia strawberries are grown naturally, without the use of pesticides or chemicals, and following sustainable cultivation methods.
The Agrisicilia Consortium guarantee
The Agrisicilia Consortium guarantees the origin and quality of the strawberries, controlling all stages of production and marketing, from the field to the consumer's table. Strawberry jam with collagen proteins from Agrisicilia is therefore a safe choice for those who want to enjoy a high-quality product with an authentic taste.
The First Strawberry Protein Jam
Strawberry jam with collagen proteins from Agrisicilia is a real innovation in the world of nutrition. Thanks to its low-sugar, high-protein composition
Formats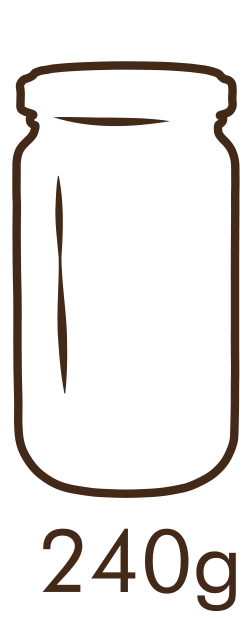 PRODUCT SPECIFICATIONS
| | |
| --- | --- |
| Ingredients | Strawberries 59.4%, sugar 27.4%, rice protein 11.4%; gelling agent: fruit pectin 0.9%; acidifier: citric acid 0.8%, natural flavouring 0.06%, black carrot extract 0.04%. |
| Fruit used | |
| Storage | After opening, keep at +4°C and consume within 14 days. |
| Taste | sweet, very aromatic and have a distinctive aroma that makes them easily recognisable. |
| Usage | To be used 'au naturel'. It is also ideal for spreading on bread and toast for healthy, protein-packed breakfasts or snacks. |
Nutritional Values per 100g
| | |
| --- | --- |
| Energy | 867 kJ / 207 kcal |
| Fats | 0,7 g |
| of which saturated | 0,3 g |
| Carbohydrates | 38 g |
| of which sugars | 14 g |
| Protein | 10 g |