Sicilian Pomegranate Compote: the intense taste of fruit from Agrisicilia
If you are looking for a high-quality compote, Agrisicilia's Sicilian Pomegranate Compote is the perfect choice. This artisanal product is made using only the best pomegranates from Sicily, guaranteeing an intense and genuine flavour.
Sicilian pomegranate: the perfect choice for a high-quality compote
The Sicilian pomegranate is one of the best pomegranate varieties in the world, thanks to the region's ideal climatic conditions. Thanks to its natural sweetness and intense aroma, the pomegranate is the perfect ingredient for our homemade compote.
High-quality products
The quality of the ingredients is our priority. We use only fresh, high-quality fruit, without preservatives or additives. Thanks to our experience in the production of Sicilian jams, we are able to guarantee a high quality product with an authentic and genuine flavour.
Why choose an Agrisicilia product
Choosing an Agrisicilia product means choosing a high quality artisan product, made using only the best raw materials. Our Pomegranate compote is a product that guarantees an intense and authentic taste, perfect to accompany your moments of relaxation. In addition, with our product, you help support local agriculture and preserve the Sicilian tradition of producing artisanal jams and compotes.
Conclusion
Agrisicilia's Pomegranate Compote is the ideal product for those seeking an authentic and genuine taste. Made with the finest Sicilian pomegranates and no added preservatives, this artisanal compote is perfect to accompany your breakfast or to be used as an ingredient in cakes and desserts. Choose an Agrisicilia product and enjoy the intense taste of Sicilian fruit.
Formats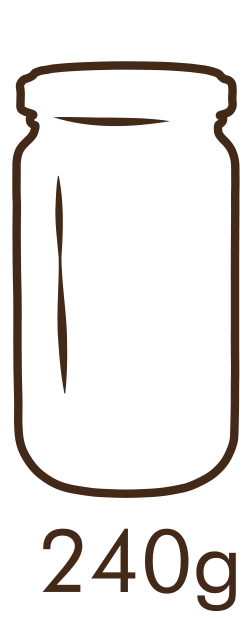 PRODUCT SPECIFICATIONS
| | |
| --- | --- |
| Ingredients | pomegranate juice (52%), sugar (47%), gelling agent: fruit pectin (0.7%), acidifier: citric acid (0.3%) |
| Fruit used | |
| Storage | The Sicilian Pomegranate Compote should be stored at room temperature. After opening, however, it is recommended to store the product at temperatures within 4 degrees. To be consumed within 14 days. |
| Taste | Intense and sweet. |
| Usage | this compote is particularly suitable for breakfast and the preparation of desserts. |
Nutritional Values per 100g
| | |
| --- | --- |
| Energy | 1026 kJ / 243 Kcal |
| Fats | 0 |
| of which saturated | 0 |
| Carbohydrates | 59 |
| of which sugars | 59 |
| Protein | 0,8 |