Sicilian Black Mulberry Extra Jam is a high-quality product that stands out for its authentic flavour and creamy texture. The origin of Sicilian mulberries dates back to ancient times and, thanks to the particular geographical position of the island, they have developed unique organoleptic characteristics that make them perfect for the production of high-quality jams.
Extra Black Mulberry jam from Sicily because its flavour is unique
The search for raw material is a fundamental aspect in the production of this jam. The best Sicilian mulberries are selected through a strict selection process, which guarantees the quality of the final product. Care in the manufacturing process is another determining factor in the production of this delicacy. Slow cooking over a low heat preserves the authentic flavour of Sicilian mulberries and produces a creamy texture that perfectly matches their intense taste.
is a product that represents the culinary tradition of the island, but is perfectly adapted to the needs of the modern market. Its organoleptic properties make it perfect for enriching your breakfasts and snacks, but also for creating original and creative recipes. Its versatility makes it suitable for many uses in the kitchen, such as for the preparation of cakes, tarts, yoghurt, cheese and much more.
Our Sicilian black mulberry jam is a product that represents the passion and love for the island's culinary tradition. Thanks to its high quality and authentic flavour, this delicacy has become a symbol of Sicilian gastronomy throughout the world. Choose the jam to enjoy a unique, high quality product that will take you to discover the authentic flavours of Sicily.
Formats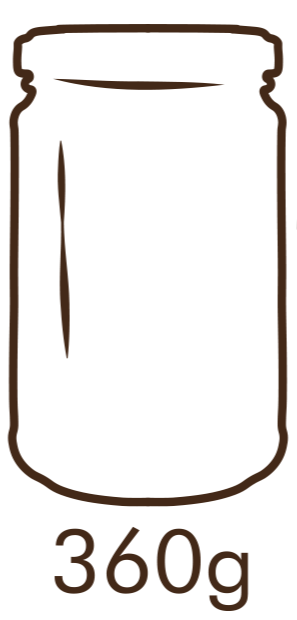 PRODUCT SPECIFICATIONS
| | |
| --- | --- |
| Ingredients | Caster sugar, black mulberries; gelling agent: fruit pectin; acidifier: citric acid. |
| Fruit used | 45 g per 100 g. |
| Storage | It is recommended to store the product at room temperature. Once opened, store the jam at a temperature of 4 degrees and preferably consume within 14 days. |
| Taste | |
| Usage | Mulberry jam is an ideal product for the preparation of all kinds of desserts. It also goes well with cheese and dairy products. |
Nutritional Values per 100g
| | |
| --- | --- |
| Energy | 1047 kJ/ 247 Kcal |
| Fats | 0,1 |
| of which saturated | 0 |
| Carbohydrates | 60 |
| of which sugars | 60 |
| Protein | 0,2 |