Preparing Sicilian Red Orange P.G.I.with Protein: A choice for healthy eating
Arancia Rossa di Sicilia P.G.I. : Origin and Quality
The Sicilian blood orange P.G.I.is a prized fruit that only grows in Sicily, particularly in the area on the eastern slopes of Mount Etna. This variety of orange is distinguished by its intense red colour and its sweet, slightly sour flavour. But not only that: it is also a valuable source of nutrients for the human organism.
Collagen Protein: A Novelty in Jam Preparation
Agrisicilia, the consortium of the Sicilian Red Orange IGP, has recently developed a new marmalade preparation, enriched with collagen protein. This is the world's first protein jam, combining the taste of fruit with the benefits of protein.
Healthy Nutrition and Lifestyle
The introduction of collagen proteins in the preparation of jam is a step forward for healthy nutrition and a healthy lifestyle. Collagen proteins are in fact useful for the well-being of bones, muscles and skin, and help maintain the right balance between muscle mass and body fat.
More Protein, Less Sugar: A Health Option
Sicilian Red Orange P.G.I. marmalade with collagen protein is an ideal choice for those looking for a healthy and nutritious breakfast or snack option. Collagen proteins are also free of carbohydrates, sugars and fats, so the addition of protein does not affect the amount of sugar in the jam.
Agrisicilia and the consortium of the arancia rossa di sicilia P.G.I.
Agrisicilia is the consortium that promotes the Sicilian Red Orange PGI and guarantees the quality of the product. Aranancia rossa di sicilia P.G.I.  is a unique product, protected and recognised by the European Union. It is only grown in certain areas of Sicily, where the climate and soil create ideal conditions for its growth.
Formats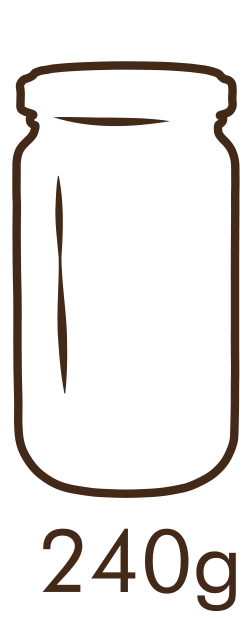 PRODUCT SPECIFICATIONS
| | |
| --- | --- |
| Ingredients | "Sicilian Red Orange IGP". 60.5%, sugar 28.4%, hydrolysed collagen 10.1%; acidifier: citric acid 0.6%, gelling agent: fruit pectin 0.4%. |
| Fruit used | |
| Storage | after opening, consume preferably within 14 days and keep refrigerated at +4°. |
| Taste | Unique flavour of Arancia Rossa di Sicilia P.G.I. |
| Usage | The preparation with blood orange is perfect for both lunch and a snack. In particular, it is recommended to enjoy it au naturel or on bread and croutons. |
Nutritional Values per 100g
| | |
| --- | --- |
| Energy | 734 kJ / 173 kcal |
| Fats | 0 |
| of which saturated | 0 |
| Carbohydrates | 31,1 |
| of which sugars | 26,3 |
| Protein | 11,5 |