Extra Pesca Di Leonforte P.G.I. jam
Leonforte P.G.I.  peach protagonist of extra jam
The Leonforte P.G.I.  peach extra jam is a typical Sicilian fruit product with a velvety flavour and intense sweetness. The Leonforte peach is a variety of peach cultivated in the province of Enna, Sicily, which obtained the PGI (Protected Geographical Indication) mark in 2018. The P.G.I. designation guarantees the geographical origin of the product and its quality, recognised at European level. The Leonforte P.G.I.  peach is a highly prized fruit, known for its quality and genuineness.
Handicraft production
The production of the extra leonforte P.G.I.  peach jam is completely artisanal and is made according to the oldest traditions and techniques. The peaches are processed by hand, to ensure the utmost care in the selection of raw materials and delicate, careful processing. The result is a high-quality jam with a unique and genuine taste that best represents the authentic flavour of Sicilian fruit.
The peculiarity of Pesca di Leonforte P.G.I.
The Leonforte P.G.I. peach is a very special variety of peach, known for its sweetness and intense, fruity aroma. The pulp is firm and juicy, pale yellow in colour, and contains a delicate, aromatic flavour that lends itself perfectly to the preparation of jams and marmalades. The peculiarity of the Leonforte P.G.I.  peach gives the extra jam a unique and unmistakable taste that distinguishes it from other peach-based jams.
Quality Sicilian fruit
Leonforte P.G.I. peach jam is just one of the many products in the line of Sicilian fruit jams and marmalades. Agrisicilia, a Sicilian agricultural company, selects the best raw materials and processes them by hand to obtain high quality products that tell of the Sicilian land and its sun fruits. In addition to Leonforte P.G.I. . peaches, Agrisicilia offers jams and marmalades made from oranges, mandarins, lemons and other Sicilian fruit varieties, all carefully packaged in 240g glass jars and 28g single-serving jars.
An original gift idea
Leonforte P.G.I. peach jam is an excellent gift idea for lovers of typical products and good food. The jar of v
Formats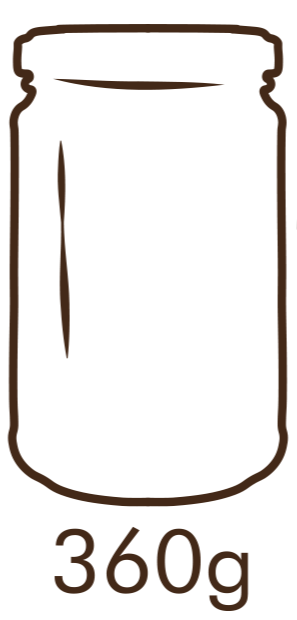 PRODUCT SPECIFICATIONS
| | |
| --- | --- |
| Ingredients | Leonforte peach P.G.I. ., sugar; gelling agent: fruit pectin; acidifier: citric acid. |
| Fruit used | 90g for 100g |
| Storage | Keep the product at room temperature. After opening, it is recommended to store the jam at temperatures within 4 degrees and to consume it within 14 days. |
| Taste | Delicate, a perfect match with the intense fragrance typical of peaches. |
| Usage | Recommended for breakfast, but also with spicy and blue cheeses such as pecorino Sardo, Gorgonzola and Formaggio di fossa. |
Nutritional Values per 100g
| | |
| --- | --- |
| Energy | 223 Kcal / 946 KJ |
| Fats | 0g |
| of which saturated | 0g |
| Carbohydrates | 54g |
| of which sugars | 53g |
| Protein | 1g |