Our Organic Orange Marmalade with Cinnamon
Organic Orange Marmalade with Cinnamon is a high quality artisanal product resulting from the search for the best raw materials. We are Agrisicilia, a farm located in the heart of Sicily, famous for its high quality organic oranges.
Organic Sicilian Oranges
The oranges used in the production of our organic marmalade are grown without the use of chemicals and pesticides. Thanks to the geographical location of our farm and the quality of the soil, the oranges have an intense flavour and unmistakable aroma.
Cinnamon Bio
The organic cinnamon used for our jam is grown without the use of chemicals and pesticides. Cinnamon is known for its antioxidant and anti-inflammatory properties, as well as its unique, spicy flavour.
Artisanal production of organic jams
Our organic jam is handcrafted in such a way as to preserve the taste and natural aromas of the fruit. After harvesting, the oranges are selected one by one and processed manually to obtain a product of the highest quality.
Selected fruit
Our company selects only the best organic oranges for the production of the marmalade. Thanks to the care and passion we put into the choice of fruit, we are able to offer our customers a unique, high-quality product.
In conclusion, if you are looking for a high quality organic orange marmalade with cinnamon, handcrafted and made from selected fruit, Agrisicilia is the right choice for you. Savour the goodness of Sicily in every spoonful!
Formats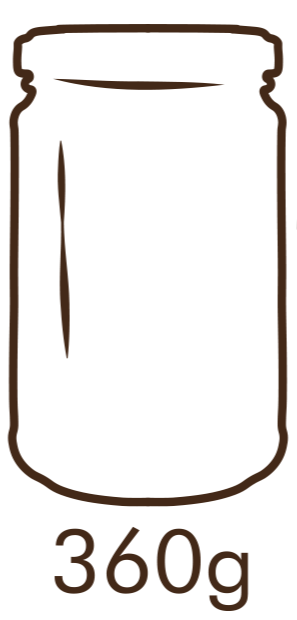 PRODUCT SPECIFICATIONS
| | |
| --- | --- |
| Ingredients | BIO cane sugar, BIO oranges with peel, BIO cinnamon (1.3%); gelling agent: fruit pectin; acidifier: citric acid. |
| Fruit used | 45g per 100g. |
| Storage | Keep the organic jam pack at room temperature. After opening, however, it is recommended that the product be stored at temperatures within 4 degrees and preferably consumed within 14 days. |
| Taste | Intense, mainly due to the cinnamon aroma. |
| Usage | The cinnamon aroma makes this organic orange marmalade particularly suitable for the preparation of cakes and tasty breakfasts. |
Nutritional Values per 100g
| | |
| --- | --- |
| Energy | 1055 kJ/ 248 Kcal |
| Fats | 0,1 |
| of which saturated | 0 |
| Carbohydrates | 60 |
| of which sugars | 56 |
| Protein | 0,4 |