Organic Sicilian Orange Marmalade: the authentic flavour of Sicily
Carefully selected organic Sicilian oranges
Organic Sicilian Orange Marmalade is a delicious jam made exclusively from organic oranges grown on Italy's largest island. The Agrisicilia company selects the best organic oranges to produce this delicacy.
The authentic taste of Sicilian oranges
Thanks to the search for the best raw materials, Agrisicilia is able to offer an organic marmalade of the highest quality, with the authentic flavour of Sicilian oranges. The freshness and unmistakable taste of the selected fruit make this jam unique.
Handcrafted
The production of the Organic Sicilian Orange Marmalade follows an ancient artisan tradition, using manual processing techniques. This preserves the authenticity and unique taste of Sicilian oranges.
An organic and sustainable product
The decision to use only organic oranges and the artisanal production mean that this marmalade is a sustainable and environmentally friendly product. Agrisicilia has always been committed to the cultivation and production of high quality organic food.
The beneficial properties of Sicilian oranges
Sicilian oranges are rich in vitamins and antioxidants, and Organic Sicilian Orange Marmalade preserves all these beneficial properties. Furthermore, Agrisicilia's jam is free of preservatives and artificial additives to ensure maximum consumer welfare.
Perfect for your breakfast and beyond
Organic Sicilian Orange Marmalade is perfect to accompany your toast at breakfast, but also to enrich your yoghurt or to create tasty sweet recipes.
In conclusion, Marmellata Bio di Arance di Sicilia is a unique product that encompasses all the authentic flavour of Sicilian oranges and the artisanal care in processing the raw materials. A sensory experience that will leave you speechless.
Formats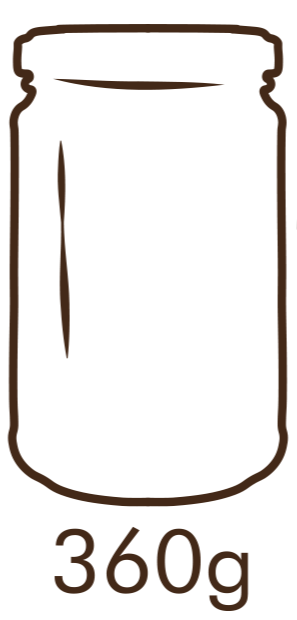 PRODUCT SPECIFICATIONS
| | |
| --- | --- |
| Ingredients | BIO cane sugar, BIO oranges with peel; gelling agent: fruit pectin; acidifier: citric acid. |
| Fruit used | 45g per 100g. |
| Storage | Store at room temperature. After opening, it is recommended that the product be kept at a temperature within 4 degrees and preferably consumed within 14 days. These preservation methods are necessary to maintain the quality and flavour of the product, a high-quality, organic Sicilian orange marmalade to protect health and maintain the line without sacrificing taste. |
| Taste | fragrant product and intense flavour. |
| Usage | This organic jam from AgriSicilia is particularly suitable for the preparation of desserts (biscuits, tarts, cakes and more) and excellent breakfasts. |
Nutritional Values per 100g
| | |
| --- | --- |
| Energy | 1065 kJ/ 251 Kcal |
| Fats | 0,1 |
| of which saturated | 0 |
| Carbohydrates | 60 |
| of which sugars | 56 |
| Protein | 0,6 |